Pandel is the kennel prefix for a bloodline of Pointers started by Eleanor Lillesand in 1967.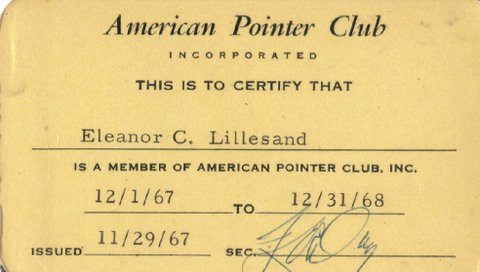 The name "Pandel" was derived from Eleanor's name along with the name of her two children Andrew and Patricia. Eleanor purchased her first Pointer, Ch. Finefield Firefly "Sugar" from well known Pointer and English Setter breeder / judge Samuel B. Sullivan of the Finefield kennel prefix. Sam started in Setters in 1923, and was a charter member of the American Pointer Club in the 1930's. "Sugar" was bred twice, both times to dogs owned by notable Pointer breeder judges Dick Renihan and Jack Rementer, respectively.
In 1980 Patricia purchased Ch. Marjetta Cameo C.D. as a pup, from breeder/judge Margie Martorella, and showed her in breed and obedience. "Cammie" was bred twice. Males of hers were bred to Finefield Firebird "Birdie", a "Sugar " granddaughter. It is from these original foundation bitches that Eleanor and Patty developed the Pandel bloodline.
Both Eleanor and Andrew are now deceased, and Patricia Lillesand continues the bloodline along with her children Katelyn, William, and Michael Bowman. In 2008, Patricia was made an Honorary Lifetime Member of the American Pointer Club. This honor recognizes over 25 years of dedication to the Pointer breed and to the club.

Pandel only occasionally has pups for sale, as this is our pleasure, not a business. We also at times have adults available for wonderful forever homes. Pandel Pointers are bred for home, show, and hunting companion, with health, temperment, and soundness of utmost importance.

If you are looking to make a Pointer be a permanent companion in your home, do not hesitate to contact us. Even if we do not have any pups available, we would be more than happy to help you find the right pup for your needs.